2020/2021 Outstanding Peace Activist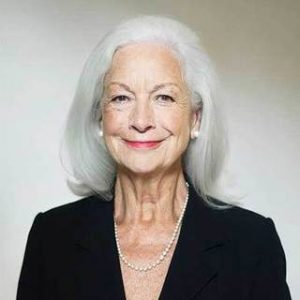 2020/2021 Outstanding Peace Activist
Dr. Scilla Elworthy
Year granted award: 2020/2021
Turns vision into action:
Today her full attention is on developing Business Plan for Peace www.thebusinessplanforpeace.org resulting from her 2017 book The Business Plan for Peace: Building a World Without War. Her TED talk on non violence has been viewed by over 1,400,000 people on TED and YouTube.  Peace Direct goes from strength to strength under brilliant young leadership, founded by Scilla in 2002 to fund, promote and learn from local peace-builders in conflict areas. Scilla was adviser to Archbishop Desmond Tutu and Sir Richard Branson in setting up 'The Elders', and was Awarded the Niwano Peace Prize in 2003. She has been nominated three times for the Nobel Peace Prize for developing effective dialogue between nuclear weapons policy-makers worldwide and their critics, with the Oxford Research Group founded in 1982.
2023 Register to the event
The 2023 Luxembourg Peace Prize ceremony will take place at the European Convention Center and shared online.